As this year draws to an end (how did that even happen, by the way?!) I thought I'd do a round up of my most used and loved beauty and make up products of 2018. This is something I'd like to keep up this year, perhaps with a half-yearly update in June — July. It gives me the time to test and try a whole bunch of things (gifted and purchased), and assess how I genuinely feel about them. I'm a bit of a creature of habit when it comes to beauty — once I find something I love and that works I tend to stick to it. In saying that my favourite brands are always evolving and sometimes I even stumble upon something that I've never heard of, that I end up replacing something with.
So read on knowing that I have used all of these products for a while now, and would only recommend them because I truly enjoy using them. Remember however, especially with skin — we're all different, so what works for me might not work for you. But here is what I have absolutely loved using 2018.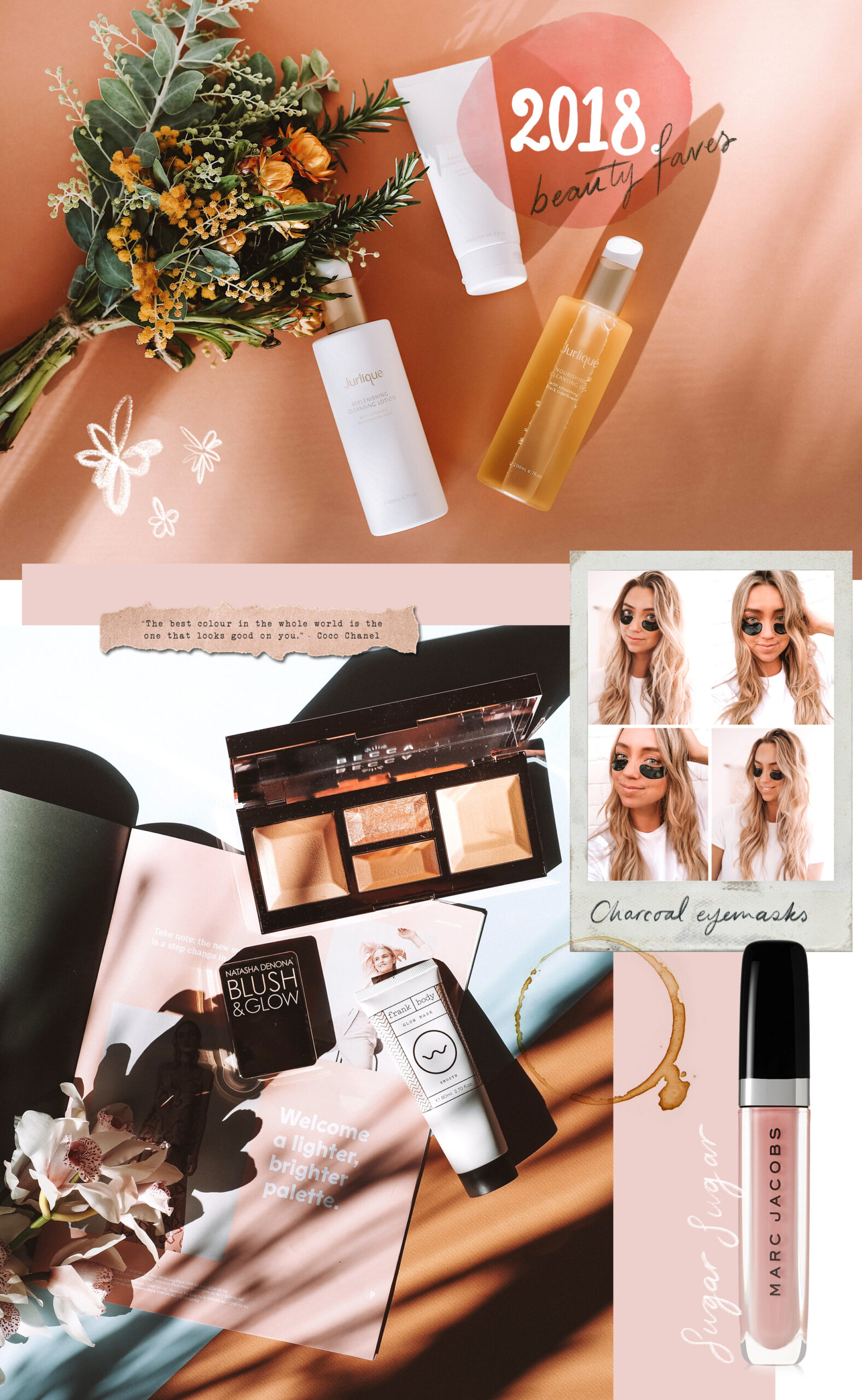 After spending most of the year using whatever foundation I had in my drawer mixed with some illuminzer, a colleague recommended I.T Cosmetics Your Skin But Better CC Cream which resulted in me promptly marching to Sephora, only to see it sold out. When I asked about it, the girl at counter looked at me as if I'd been living under a rock, saying it disappears pretty fast once they stock up. I now understand why. Once I got my hands on the "Medium" shade, I was hooked. It's got great coverage and feels light on the skin.
The last month I have also trialled and loved the Bioderma Photoderm Tinted Cream, which is a much lighter option, which I tend to use if I know I'm going to be outside, as it's got great SPF.
I love a good face oil, as I tend to get dry skin from time to time when seasons change. My absolutely favourite this year has been the Superberry Hydrate + Glow Oil, mainly because I packed it in my hospital bag and used it after the shower just after having Rosie. The smell has stuck with me ever since, it's fresh scent and light weight just reminds me of total bliss, and it's made my skin super soft. I will absolutely be re-purchasing this when it runs out.
I was also sent the Clarins Santal Face Treatment Oil which I've loved on evenings when I feel that my skin needs some extra TLC. As it's a 100% pure plant extract too, it's full of the good stuff.
Much needed the last 5 weeks, my go-to's are the Arlo Blak Charcoal Eye Masks, which work a treat every time. They have a cooling effect as well which not only seems to work, but also feels great under puffy, tired eyes.
I've also recently given the Peter Thomas Roth 24K Gold Hydra-Gel Eye Patches a whirl, I've only used them a handful of times but loving the results with them as well. I love that they only need 10 minutes too, cause this mama is pretty tight on time these days…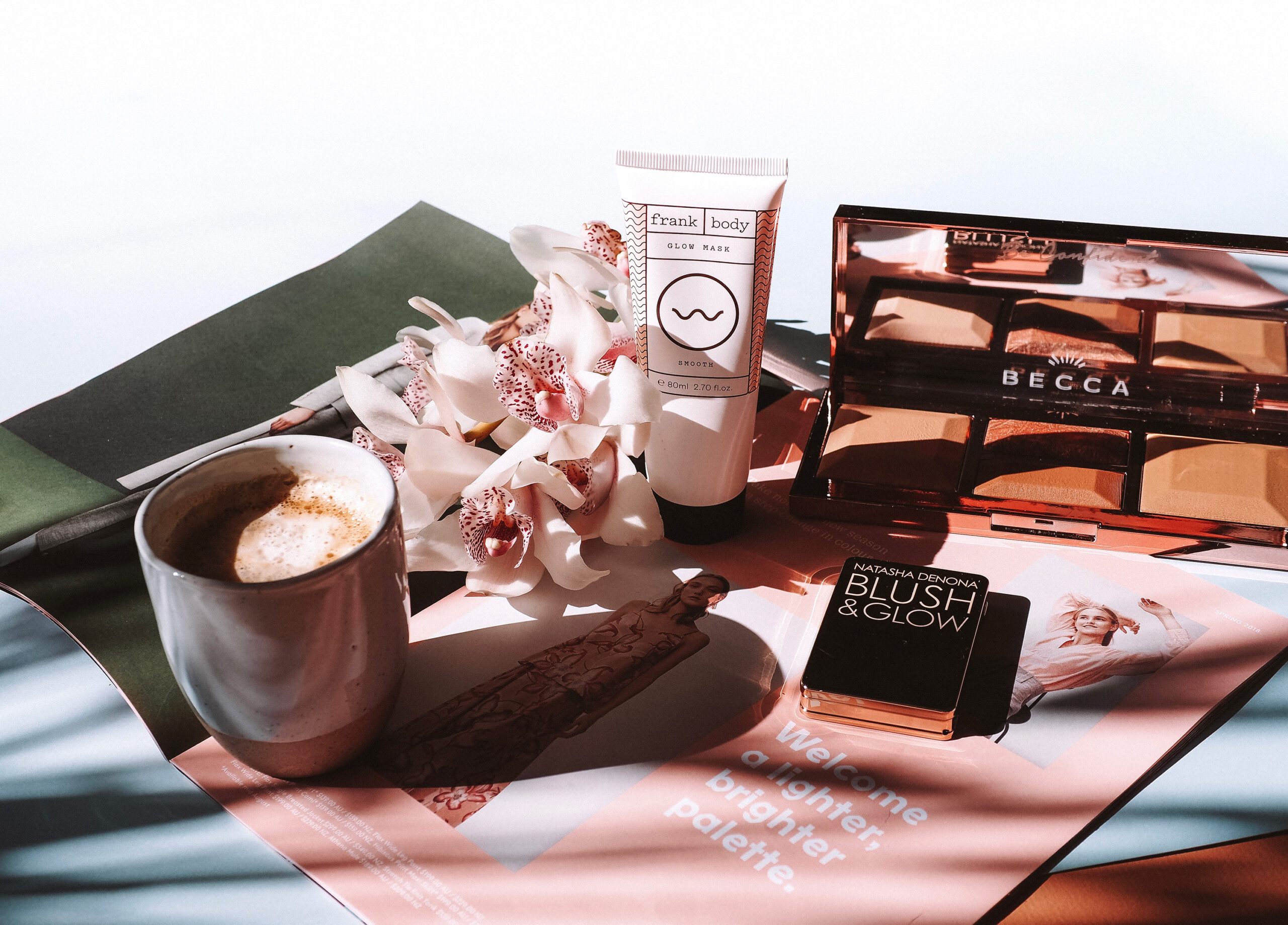 2018 really felt like the year of sheet-masks, but I have yet to discover one that I love. If you have any suggestions please help a girl out in the comments below. The struggle is also real with keeping them on… I tend to get busy after I put on a face mask, and the sheet ones seem to slide off if I'm up and about. Which is why I've been loving the Frank Body face masks this year, more specifically the Glow Mask and the Anti-Drama Face Mask.
This was a funny one this year, because with my pregnancy I had these weird 180 swings of fragrances that I loved initially, and then couldn't stand — from one day to the next. As I wasn't using perfume daily anyway, I stayed away from it unless there was a special occasion. But when there was one, the one fragrance that stuck with me this year was Maison Margiela's REPLICA Flower Market. I have used Beach Walk for years, but this was a nice femme change from that.
Again with the fragrance thing, I've wanted to stick to natural products that smell great but aren't too over-powering and I've been absolutely obsessed with the Crabtree & Evelyn Rosewater & Pink Peppercorn Body Gel this year. Crabtree & Evelyn has a very comforting feel for me, my Mum used to, and still uses, their products — so it reminds me of her. Their hand creams are also insanely good. I've been using the Pear & Pink Magnolia one religiously.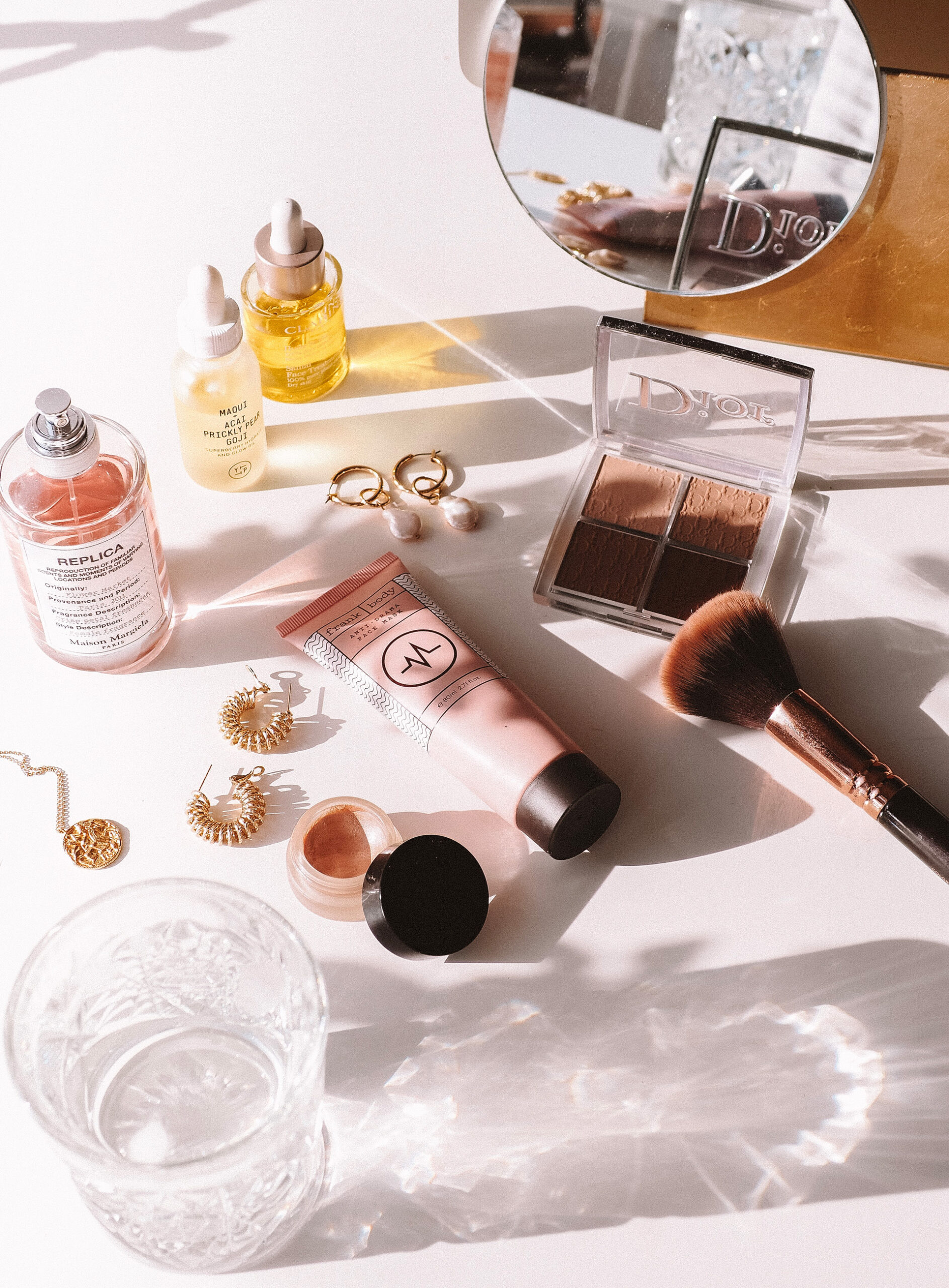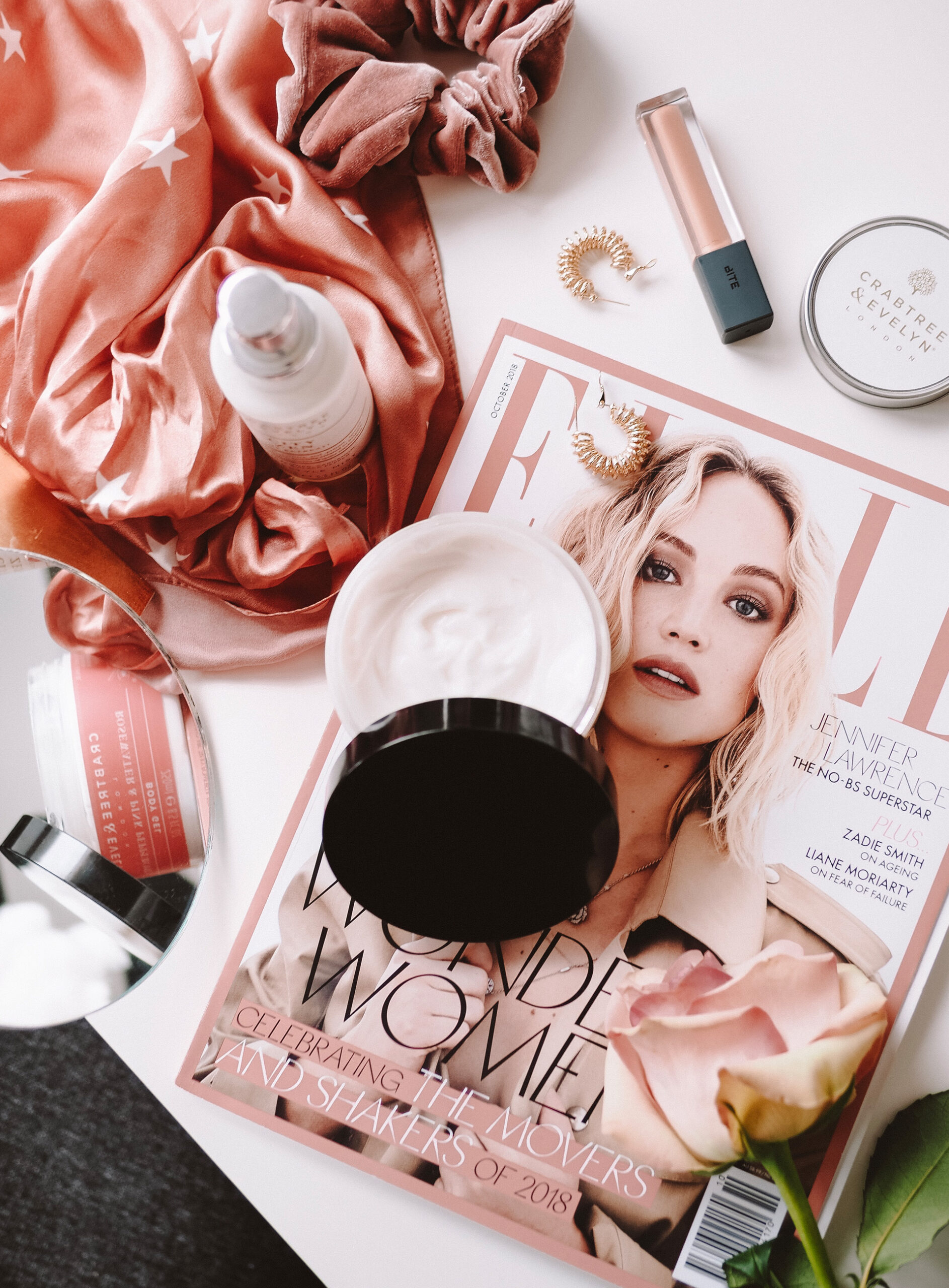 Not much of a lipstick girl, and even less so now with Rosie here (can't be leaving lipstick marks on her little cheeks!), but I have been loving two lip products this year. First up is the Marc Jacobs Enamoured Hi-Shine Lippy in Sugar Sugar — this product really is the perfect balance of a lip gloss and lipstick. A touch of colour but super high-shine and also feels ultra moisturising. I can't get enough of this one.
Second up is BITE Lush Fruit Lip Gloss in Rambutan. Again, the perfect combo of colour and shine.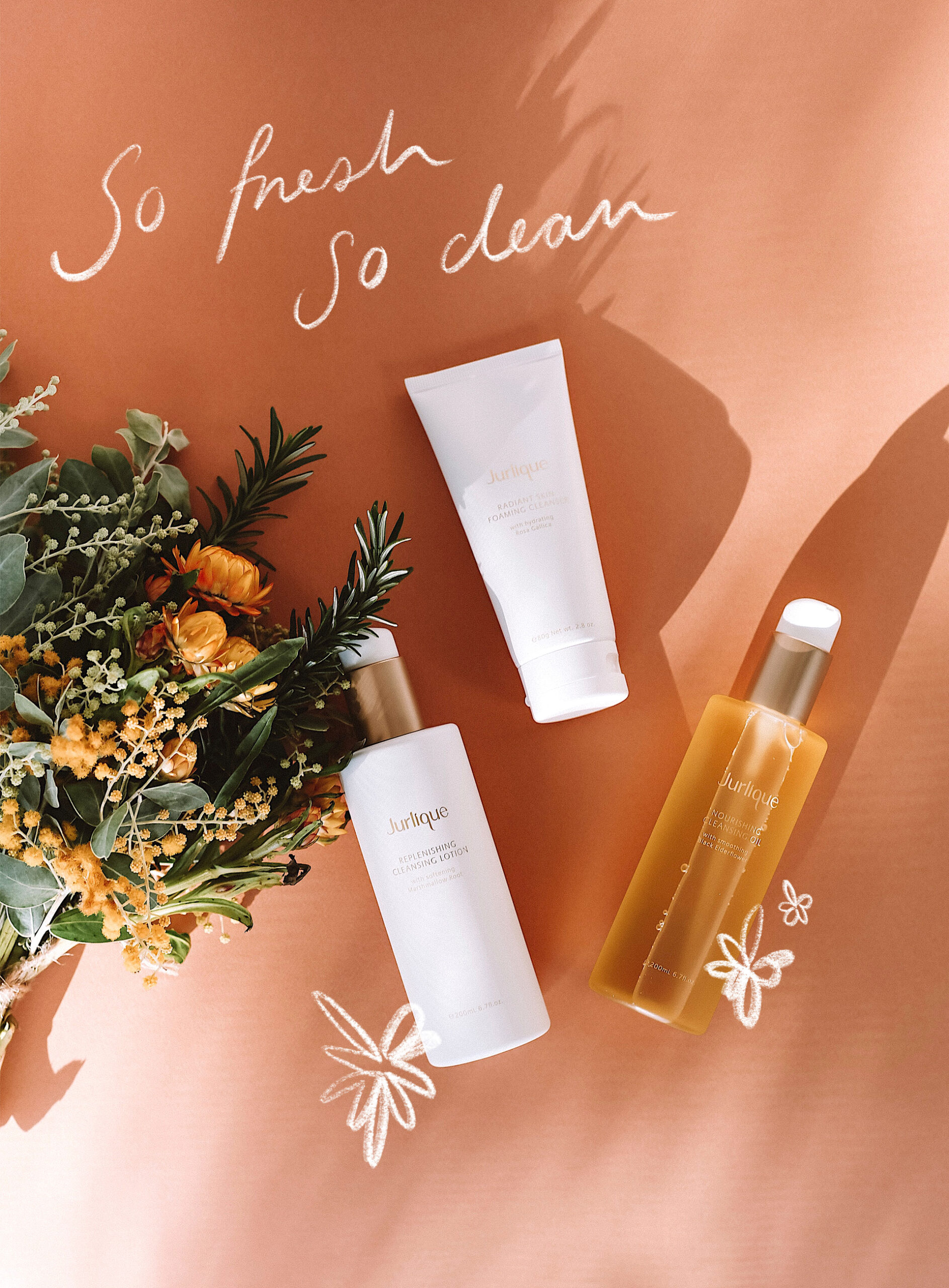 I am the type of person that cannot go to bed without taking their make up off or brushing their teeth. No matter how tired I am, this is just something that has to be done.
Needless to say, I find comfort in a bit of a routine at night where cleansing, toning and a mist is key. If you've followed me for a while you'll know I'm a big fan of Jurlique's products – their rose mist is something I've used for over 5 years now, and a night routine without it just doesn't feel right.
This year they brought out a range of new botanical cleansers which I am absolutely in love with. I packed the Radiant Skin Foaming Cleaner in my hospital bag, and again used it in the shower after Rosie arrived. The smell and texture of it has such a comforting and fresh feeling to it, this is absolutely a product I will be re-purchasing in 2019.
The rest of the botanical range is just as good, another favourite being the Nourishing Cleansing Oil. With cleansers I highly recommend you test out a few and find what's good for you, as this is a very individual choice depending on your skin type. But if there is one brand to trust when it comes to great, natural skin care, it's Jurlique.
What have your beauty faves been in 2018?
What have you used and want to re-purchase? I'd love to know. xx