Brr… I feel like Sydney has turned on Autumn in a big way lately. We've bedded down some sort of rhythm in the house hold, but each day is still taken on with the "one step at a time" approach.
Rosie's character is really shining through at this stage, and you can really see opinions and personality traits take shape, which is both exciting an exhausting. On the exhausting days these posts are great, because it's a reminder of how quickly time files, and that if you're going through a rough patch, that will pass too.
To be honest I was hoping that the slight clinginess would be well on the way out by now, but it seems to have become worse. She's got her two bottom teeth coming through, and with that she's needing more hands-on time than before. I'm not going to lie, it's exhausting at times. Since she can't quite sit up, or entertain herself yet, she's quite demanding in terms of time and entertainment. But when she's happy (which is most of the time) she is SO happy. She's a smiley, social little lady who loves being passed around (even to strangers), and will happily greet someone with a big fat smile. She loves being out and about in the pram for walks, or "helping" with the grocery shop. She's started grabbing things as we go up and down the isles too, which is pretty hilarious.
If I compare this stage to the (what's meant to be more exhausting) newborn stage, I will say that in our case, this time has been more demanding on me. I was hoping to be back at work (from home) at least a few days a week by now, but she's demanding more of my time than expected. That's OK though, I've decided to let myself enjoy it, and make the most of our time together. It may be the only chance we get.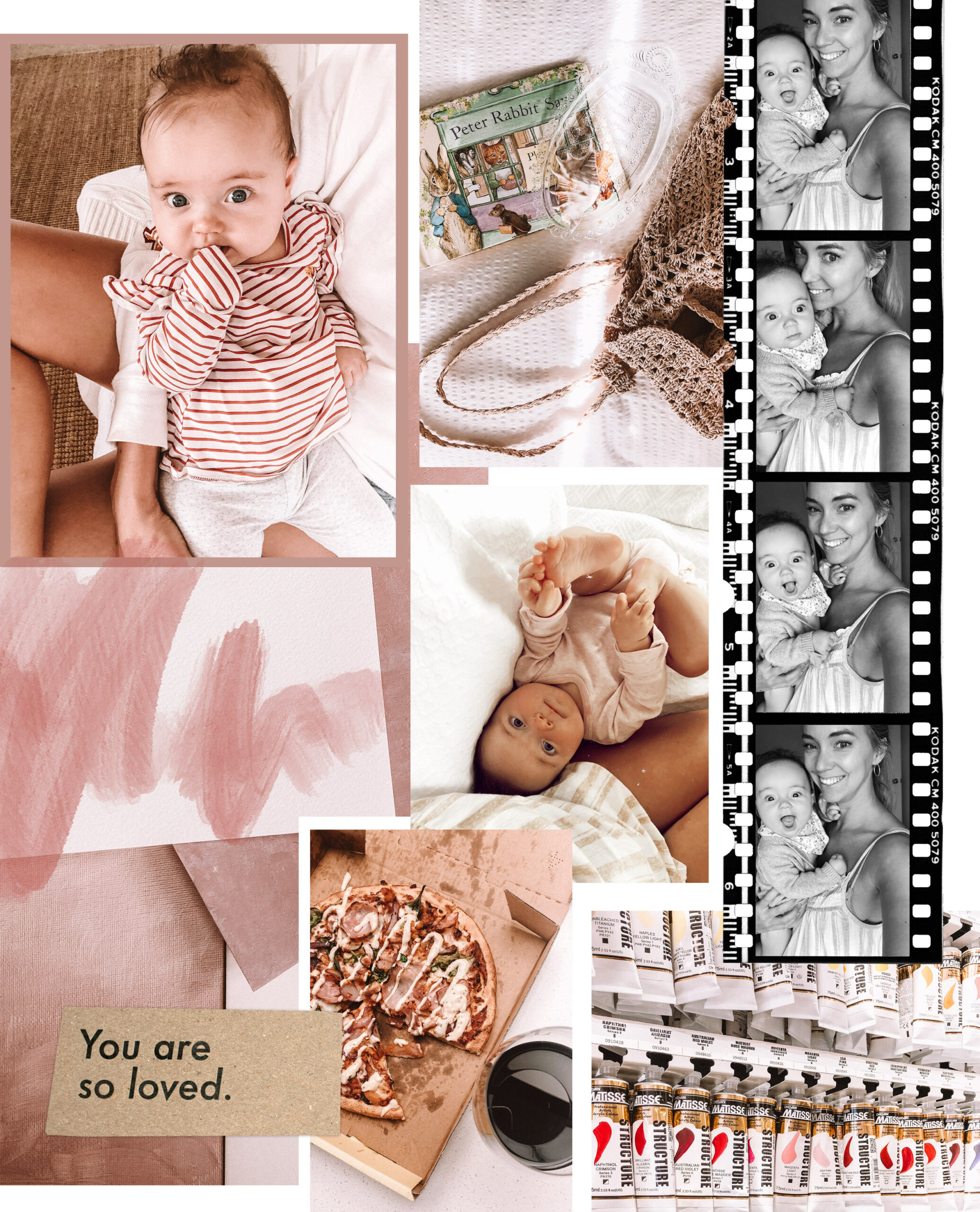 Still piling on the weight like a pro, little miss thunder thighs might be hard work at the moment, but it's making me love her even more. Overall she is such an easy going baby — happy to tag along to anything, try new things and has a default "happy" stance. She's definitely a routine baby, if we're not having bath time by 6-7 pm the little terrorist makes an appearance, and until she's fed and tucked in she won't hesitate to tell me how she feels about me forgetting about the time. As much as that can be frustrating at the time, I'm glad she's thriving off a routine.
Speaking of sleep, she's still doing 9-12 hour stretches at night, but day naps are very much a guessing game. They are predictable in terms of frequency — at least three a day, but length varies from 25 min to 2 hours. Every day is different. I have not reinforced naps in any way, which maybe I should have, but since she is such a great sleeper at night, I'm happy to take her lead on this for now, as long as she naps.
She is still in her Snoo, which we have to start transitioning out of soon, as it's getting way too small. We've set this to "weaning" mode, which means it doesn't rock her unless she is unsettled. She's also transitioned to both arms out of the sack (the two larger Snoo sacks have snap-button closures for this — how clever!) since she can now roll over. I'm not going to lie, I'm pretty terrified about the transition into the crib, but we have another month or so before that needs to happen.
Rosie can now pretty much sit up on her own, and can roll over both ways. We have started trialling a little bit of solids at the five and a half month mark — she loves mashed banana. Otherwise I'm still breastfeeding her 5-7 times a day.
Though we're still a damn busy house hold, I feel like I've started to find my feet a little. Days are long and demanding, but what a great excuse for red wine and pizza once she's down for the night (!).
I'm not really exercising at all this month, looking after the other two kids, Rose and the house hold doesn't really give me any time to myself. As it's temporary, I'm OK with it for now — but can't wait to get back into my own "self care" routine to keep my head straight. Mummas, I cannot stress how important it is to look after yourself. I know I'm being slack with this for myself at the moment, so this is a little reminder to you, to try to make sure you get time to yourself, when you can.
Being back at work a few hours a day might not sound like the right thing to do, but it's really helping me feel productive, even if it's just a few days a week. I absolutely do NOT feel ready for it now, but I hope to look into some day care options in about two months time, for a day or so a week, but it also seems like the scariest thing in the world right now.
The constant time and attention she needs at the moment is the biggest challenge, but also the biggest blessing. I love every second with her, and when it becomes tiring I generally just need half an hour to myself which I tend to get when she naps, and I'm good to go again.
I'm also finding the days when she's teething pretty hard, not because she's clingy, but because she looks like she's in pain. There have been a handful of days where I've ended up giving her panadol for the pain — she will be drooling like a machine and constantly chewing her hands, and crying. It really is heartbreaking to see them in pain, so you do what you can.
Don't leave the house without entertainment. Car keys work a treat if you've forgotten, but their own toys are a much better option.
Make plans to do things as often as you can. I like having plans every day of some sort, even if it's just a walk. I'm not saying to fill your calendar, but having something on to get you out and about, with adult conversation, is a good thing.
Books, books, books. Rosie is fascinated with books at this stage, I ended up going to Vinnies and picked up some second hand ones for $1. We've incorporated them into her night time routine, but she also loves looking through them during the day.